Are You Experiencing a Season? Be Encouraged!
When I wrote "
He's the Keeper of My Soul
" – I was experiencing a "season". We all go through them. In this particular season, the economic recession was beginning to grow – and my life was affected. I KNEW that the LORD was still with me, and I was going to have to praise and worship my way out of that very dry and frustrating period. Shortly after this book was released, I was writing for an online Bible study group. And let me tell you, I was writing from a place of pain and experience. I was encouraging God's people to keep holding onto His Word and His hand – while I was encouraging myself. And all I can tell you is – GOD is faithful!!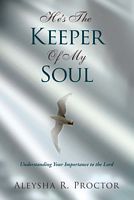 About the Book
What would you do if you knew that you could not fail? How would you feel about yourself if you KNEW that the God of the Universe is crazy about you?! How would your life be different?
So many people live their lives thinking if only I were smarter, if only I were thinner, if only I were richer, if only I were more educated, if only, if only, if only.
You fill in the blanks. If only _____, then my life would be better or complete.
In
He's the Keeper of My Soul
, Aleysha will walk you through scriptures to show you just how smitten God is with you, and you'll be able to see how He sees you! It doesn't matter if the year is 2008 or 8008, the Bible is still relevant in our everyday life. King Solomon said, "There's nothing new under the sun." Meaning, any economical, social, political or personal issue that we're experiencing in our current day, has already been experienced in the past. And the Bible has an answer for it!
Purchase the Book Online at:
•
Amazon.com
•
Barnes & Noble
•
Booksamillion.com
About the Author
Aleysha Proctor is an award-winning Entrepreneur, award-winning Author, and certified Image Consultant (having studied with
Color Me Beautiful
, Inc.,
Beauty for All Seasons
and
Brenda York Image
Management
). She also has a BS degree in Management & Leadership, an MBA in Marketing from Hamilton University, and is a certified
Global Career Development Facilitator
(GCDF). Aleysha is a member of the
Fashion Group International
(FGI), where she served as the president of the Foundation, which awarded scholarships to area students majoring in fashion related fields. She's also a member of the
National
Black MBA Association
, Inc. (NBMBAA).
Aleysha has authored three inspirational books:
With Style & Amazing Grace
(2007),
He's the Keeper of
My Soul
(2008), and
Jazz, Java & Jesus
(2010). Inc. In 2008, she won
Aspicomm Media's
Best Spiritual/Inspirational Book award for her first title, "
With Style & Amazing Grace
".
A member of the
First Baptist Church
of Glenarden, Maryland (FBCG), Aleysha's passion in life is helping others to live their best lives now by realizing and utilizing their potential. Visit the author online at http://www.aleyshaproctor.com/