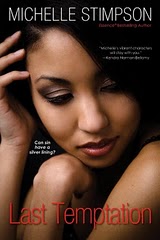 The Last Temptation
by
Michelle Stimpson
About the Book
Sensible single mother Patricia "Peaches" Miller isn't about to follow in her mama's footsteps and become dependent on a man--no, that would be too easy. But when she doesn't see eye to eye with the man she wants to marry, she knows that returning to a life of girls' nights out, retail therapy, and chocolate peanut clusters just won't do for her. Then Raphael, her son's father, steps back into the picture--and makes it clear that his attraction to Peaches is stronger than ever. There's just one problem. Raphael has already pledged his heart to another woman.
Peaches has been praying for a perfect family for a long time. Deep down she knows this can't be God's idea of an answer--but can you blame a girl for hoping? Now, as she battles with temptation, and with her faith, she's not sure which will win. . .
Book Review
Being a lover of Christian Fiction, I was elated to learn of Michelle Stimpson's latest work. In The Last Temptation, we are reintroduced to Peaches Miller and several other characters from her debut novel, Boaz Brown.
Peaches is a single mother, living a God-led life, is engaged to Quinn, who is also living a God-led life. Conflict comes to the couple when Quinn accepts a job in another state without the benefit of consulting with Peaches. This decision sends their relationship into a tailspin, as Peaches feels that such a decision should have been discussed with her, and Quinn feels that he made the right choice because his decision is one that will make their lives better. He indicates that he is going to wear the "biblical pants" in their marriage.
Ms. Stimpson does an excellent job weaving the characters together and telling their story. The characters and their relationships are well defined and the story is easy to follow. She shows us, through the characters, what can happen when we attempt to handle things and solve problems on our own, instead of allowing ourselves to be led by God.
I truly enjoyed this book, and highly recommend it to readers of any genre, not just Christian fiction. Ms. Stimpson did not disappoint with this one.
Reviewed by Deniece Shelman